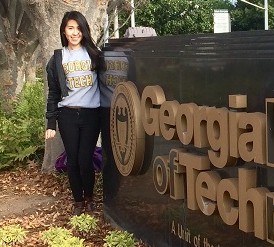 Monica DELUCIA
Georgia Institute of Technology, United States
Fall 2014
Before I left Hong Kong, I decided to make several goals that I aimed to complete during my exchange. I would like to learn as much as possible about other cultures in terms of their education, lifestyle, and relationships. In addition, I would like find new experiences that can elevate my knowledge and my networking.
I am glad that all expectations have been realized. I had an even greater chance to learn about new cultures than what I had expected. I had an opportunity to live in an international house and met people from all over the world, including Italy, Sweden, Holland, the UK, the USA and other places, and we become close friends. The house was a vibrant community (local and international students, both full-time and on exchange) of world cultures, international outreach, foreign affairs, and enthusiastic students who are curious about how the world works beyond campus. Every member had to join a committee of one of the sections below and actively participate in every activity:
I-Film: Screening of international films or attending a film festival in Atlanta
I-Culture Nights: Events include salsa lessons, cooking classes, food tasting, and attending local performances by touring international entertainers
I-Dinners: Group meals featuring the cuisine and culture of a particular country or region
I-Outreach: Volunteer projects that serve Atlanta's immigrant communities or address international crises around the globe
I joined the I-culture committee. We organized an Indian night, where we had an Indian meal and watched a video about Indian culture, and a Sweden night where we had a 4-hour meal and learned about European cultures. We also visited the World of Coca Cola, CNN, and Georgia's Aquarium. Most of the events were organized every Saturday.
Exchange has also opened my mind wider and elevated my knowledge, not only from courses that I took, but also about life, cultures, and languages. I had a chance to celebrate Thanksgiving where I cooked turkey for dinner, attend a Halloween costume party, watch American Football, and watch NBA live. I also had a chance to visit other states such as Florida, California, Nevada, Massachusetts, New York, and Tennessee. I travelled to those states with my friends from iHouse.
This exchange program has given a great benefit to my career development as well. It has shaped my personality. By having the opportunity to discover myself in an unfamiliar place, I developed self-awareness and self-esteem. It has also elevated my ability to confront social challenges outside of my comfort zone and deal with problems head-on. I also learned to live at a home that was unfamiliar at the beginning and which had become a 'real' family by the end of the semester. I also learned how to form my own opinions about the things that matter most to me and prioritize them.
The buildings, classrooms, and all the facilities are pretty much the same as HKUST. However most of lecture rooms, gyms, and canteen are bigger since Gatech has more students. We can also use free shuttle bus to travel within the campus.
In terms of the teaching and learning culture between HKUST and Gatech, I would say that the lecture style is more interactive at Gatech. Most of professors ask students to read the reading materials before the class starts and begin the class with a group discussion. The courses also have more exams compared to HKUST. Most of them have 3 to 4 exams with each exam counted at 20-25% from overall grades.
Though the exchange trip is ending, it seems like just yesterday that I arrived in the chilly summer of Atlanta, all excited and nervous. Well, here I am now, going to leave Atlanta and the United States.
Overall this exchange was the best experience of my life. I'll never forget the memories and friends I've made. The hardest part of my exchange was leaving my friends. I know it's not the end but it was sad returning home, I didn't want to leave. Some friends from around the world are planning on visiting me later this year, and I will travel to see them in the future.
I feel grateful to everyone who shared the journey with me: the exchange crews, my house mates, my travelling buddies, Gatech students and teachers! They have elevated my experience and I've learned so much from all of them. I am thankful most to EVMT and School of Science for giving me a great opportunity to go to the States for exchange.