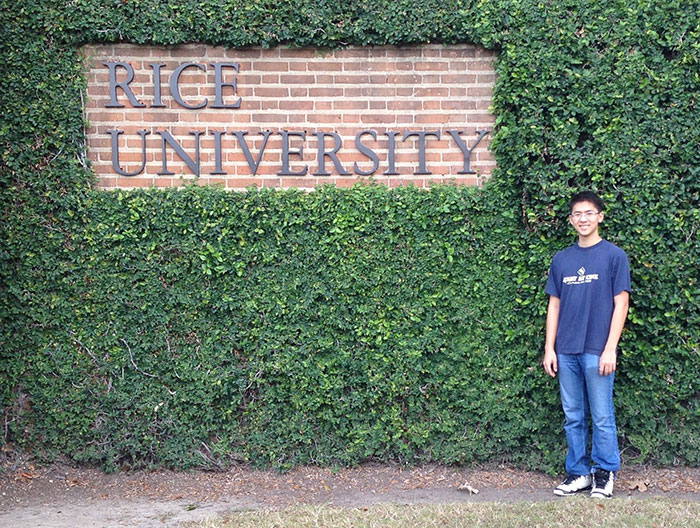 Austin LEUNG
Rice University, United States
Fall 2013
I was extremely privileged to attend Rice University in Houston, Texas for my exchange program this past semester. The Rice University campus is beautiful, green and open. One trivia I heard was that there were more trees on campus than undergraduate students. It is also abundant in wildlife, with squirrels and rabbits livening up the campus. All of this combined to create a very comfortable environment for my extended stay there.
In selecting my courses, I mainly aimed to study those that would not be available to me at HKUST. I chose six courses: The Cold War and Climate Change, Criminology, Environmental Issues in the Future for Rice, Introduction to Physical Anthropology, Introduction to Football Analysis and Broadcasting, and Introduction to Sport Management.
The courses I chose allowed me to broach different topics of interest. At the same time, I was also able to explore new knowledge associated with Environmental Management and Technology, my major at HKUST, from different perspectives – like making historical links between climate change and the Cold War, and comparing environmental challenges at Rice with those facing HKUST. I was also able to pursue my passion in sports through classes about Sport Management and American football. The latter was especially interesting, as it was a student taught course that took place every Sunday night, where the class would essentially watch and analyze 'Sunday Night Football.' I very much enjoyed my classes this semester.
I grew up in a predominantly American community, attending international schools and living in a multicultural neighborhood. Still, there was much to be excited about on my exchange, from hearing the Southern Texas drawl to watching an NBA game live to just talking with locals. It was an intriguing mix of familiarity and novelty.
I faced a number of unexpected cultural differences when I arrived. On my first night in Houston, I was surprised to learn that there was no public transportation, besides taxis, to take me from the hotel into town. I was relegated to going back to the airport to eat Starbucks for my first meal in the USA. I'd heard stories about the reliance on cars in the USA, but I never quite imagined that even the airport was so isolated.
An exchange program is more than just immersing oneself in the culture of another country. It is also about exposing your culture to people in your host institution. I did this through making dumplings. I took my friends to shop at a Chinese supermarket where fresh fish were laid out in open air, which shocked them – even though this is very common in Hong Kong wet markets. We made the filling and dough from scratch, wrapping and eating over 100 homemade dumplings – a process that took over 8 hours in. Even though the taste turned out to be mediocre, I believe my friends enjoyed the process of exploring Chinese cuisine.
An inescapable part of exchange is exploring the country or area where you visit. Over Christmas and New Year's, I visited Boston, Washington D.C. and New York. This proved to be an incredible experience, beginning with a terrible sickness leaving me bedridden for all of Christmas Day, before counting down to the New Year at Times Square's famous ball drop and staying an unplanned extra 5 days (including one night in the airport!) in New York during of middle of the 'polar vortex' that was terrorizing USA. Being from Hong Kong, to be trapped in a snowy land full of grounded airplanes with no prospect of leaving was a completely foreign concept to me. However, it also offered one of those rare chances where you have no choice but to mature and calmly handle the situation, making me immensely thankful for the incident.
My exchange experiences were eye opening, vast and immensely enjoyable. A few short paragraphs and anecdotes can only begin to scratch the surface of my adventures during my exchange program. To echo my sentiments at the beginning of my report, I could not be more thankful for the opportunity to go to Rice University.