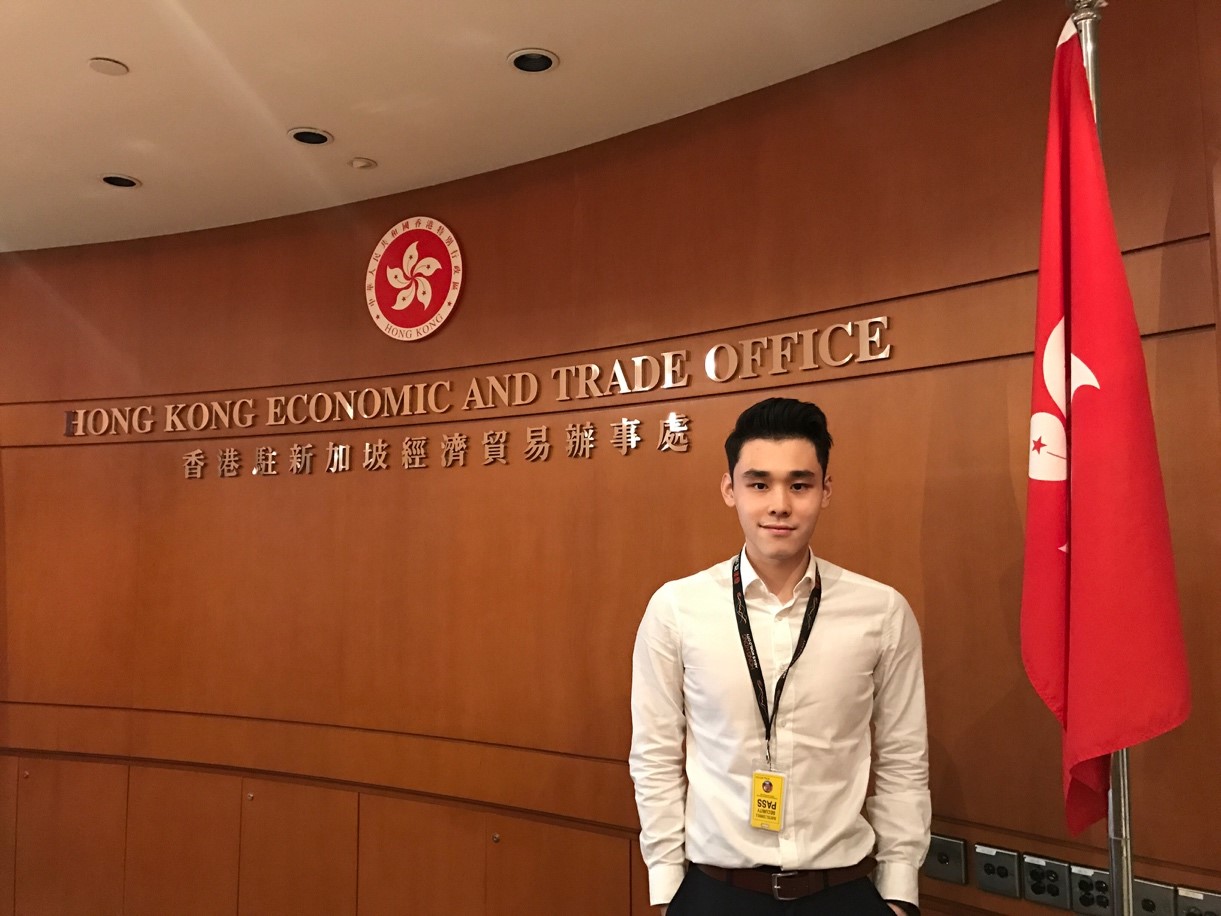 Andrew NG
Hong Kong Economic and Trade Office in Singapore
Winter 2016/17
Abstract:
This report summarizes my gains, insights and experiences from a 6-week winter internship at the Hong Kong Economic and Trade Office in Singapore. Without a doubt, it was a fantastic experience, and I got a glimpse into how a government organization works, how Singapore and other ASEAN countries develop themselves into smart countries, and how people from different cultures and backgrounds work together in the office. Most importantly, I have gained more insights into how Hong Kong could improve and learn from Singapore, a country that not only shares many similarities with Hong Kong, but is also a major competitor.
Job descriptions, reflections and others:
Working as a Commercial Relations intern in the Hong Kong Economic and Trade Office in Singapore for 6 weeks during the winter break, I was given many tasks including analysis and data collection surrounding the current situation of the ASEAN countries. "Current situation" refers to a wide range of aspects ranging from the economy, politics, environment, tourism, etc. There were a few major projects that I think are worth sharing here:
First of all, I was responsible for preparing a visit for the Secretary of Transport and Housing to Thailand to make specific reference to Thailand's public housing system. To facilitate the visit, I prepared a set of country brief and city briefs with information about the destination, including the local economy, politics, environment, sustainability, the country's relationship with China, and the bilateral trade relationship between Hong Kong and Thailand. It has come to my attention that in order to sustain a region, policy-making is of paramount importance. Hong Kong is a free market that experiences little interference from the government. This might be both an opportunity and obstacle for Hong Kong to further become a smart, sustainable city, and I believe that latter carries more weight. The housing policies in Thailand and especially in Singapore are worth referencing. These countries have shown that a well-developed housing system that  provides a stable supply to the people is a critical factor in determining whether the region can be recognized as a smart city.
Secondly, I developed a research report on the development and operation modes of overseas tourist attractions, i.e. Marina Bay Sands and Universal Studio, for the Commerce and Economic Development Bureau. The report includes the mode of land allocation to the attraction operator, the amount of land premium and monthly rental and how it is calculated, and the key terms of the land grant/tenancy agreement, such as any development restrictions, commitments made by the land grantee/tenant/operator on promotion efforts and social and community care programs for the benefit of local residents, and how the Government will monitor the implementation of such commitments. In addition, I found that there are always supplementary agreements accompanying the main agreement, which ensure that the country or the affected community is well-benefited and sustained. For instance, in the proposal for the construction and operation of the Marina Bay Sands back in early 2000, the Singapore government urged the responsible corporation to have a solid development plan for the transportation system surrounding the Marina Bay Sands. This was expected to upgrade the quality of life in Singapore as well as enhance the country's sustainability performance, qualifying it as a smart city.
Third of all, I was assigned to conduct a report regarding the sustainability strategy in Singapore for the Department of Environment. I found that although Singapore has a smaller area compared to Hong Kong, the usable area for development in Singapore is way higher than that in Hong Kong, which only has 20% of its land available for development. As such, Singapore has buildings that have shorter heights than those in Hong Kong, roads that are wider and more areas for greening. Due to these characteristics, Singapore has better ventilation than Hong Kong, and a cooler night time. On the other hand, commercial buildings in Singapore are commonly covered with greeneries, which facilitate heat transfer and provide a cooler environment for lower usage of cooling energy. Overall, Singapore has done a very good job in terms of sustainability and greening. Hong Kong should take reference from Singapore in order to uphold its name of Asia's World City.