Janice CHOW
Ernst & Young
2017
EY is one of the largest professional services firms in the world and one of the "Big Four" accounting firms. Committed to "Building a better working world," EY embraces sustainability-related opportunities and challenges, which are gradually reshaping the working world.
Due to the increasing compliance requirements by regulators and forward thinking demands from capital markets, Chinese companies not only have to keep their financial performance clear and transparent but also their environmental, social and corporate governance. EY's Climate Change and Sustainability Services (CCaSS) team was formed to help companies manage ESG performance and assist them in taking concrete actions to identify competitive advantages, increase operational efficiency and mitigate risk.
Being part of the Greater China team, I was assigned to conduct research and benchmarking on more than 150 HKEx listed companies' ESG reports, and also the property, bank and casino sector's ESG aspects, to gain insights on the best practices of the respective industries. I performed gap analysis with the current practices of clients, which include a number of Fortune 500 companies, listed companies and Government agencies. I also reviewed annual and ESG reports of clients and consolidated their stakeholders' concerns on sustainability issues to identify material topics, for compiling reports and making recommendations on improving the environment, social and governance disclosure.
Growing in EY as a sustainability intern is a complete privilege, as we could take part in a wide range of projects taking place within various geographies and industries. For instance, I benchmarked Wynn® Las Vegas's Social Responsibility performance with its peers, conducted assurance reviews with an Australia dairy company and had extensive exposure in both Hong Kong and Mainland China real estate market. The opportunities to participate in diverse projects have provided me with a multi-dimensional view of the sustainability field, and helped groomed me to be a more informed and insightful graduate.
I am grateful to the sustainability service team; the incredible support I received from the seniors has enriched the experience and made my internship more rewarding. The seniors' confidence in the interns is manifested through the responsibilities and resources delegated to me. I was assigned to take part in formulating environmental policies and creating an environmental management system for a China real estate state-owned enterprise. Despite the challenges, things I learned through collaboration with colleagues in the EY China office and our team, liaison with the client and overall project management were profoundly rewarding. This experience has allowed me to assimilate more sustainability knowledge, and gain a wider perspective of the vast China market in demand for managing ESG risks and disclosing their sustainability performance. The work environment at EY is undoubtedly a fast-paced, dynamic and challenging one, but if you embrace the challenges and capitalize on the opportunities, the rewards will not disappoint.
After 18 weeks of "Building a better working world," there is no doubt that I have sharpened my skill sets and gained a holistic view of the sustainability field and a wide range of industries.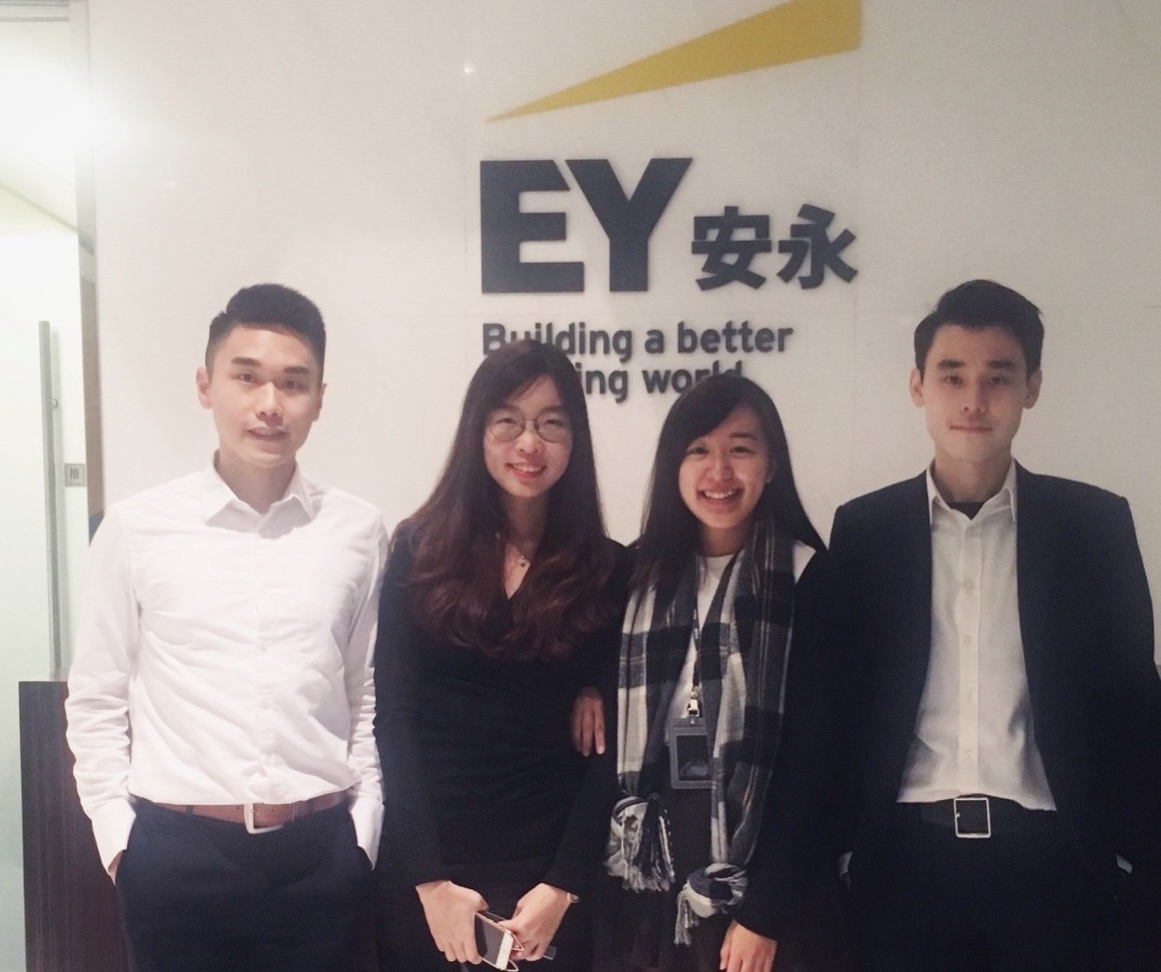 A batch of Interns