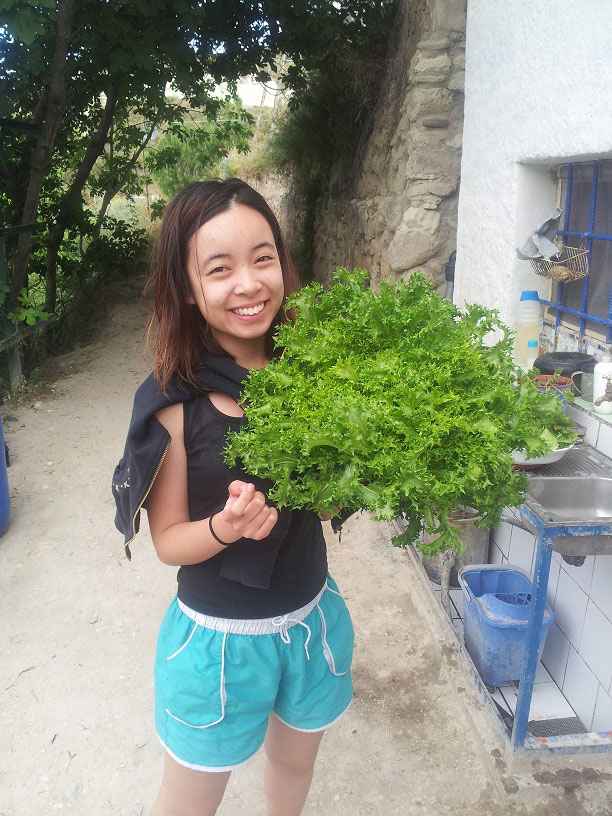 Tiffany WAN
Sunseed Desert Technology in Southern Spain
Summer 2013
I once thought that environmentalists like me were the minority, and that my sole effort would hardly have any impact on the world. However, I changed my mind after this voluntary service. I am never alone, and co-operation could amplify efforts in environmental conservation.
In late May, I joined a 2-week voluntary work program called Sunseed Desert Technology in Southern Spain. The objective of this program is to collaboratively conduct research and develop alternative ways to lessen environmental impact and a smaller environmental footprint for a village.
Sunseed Desert Technology is a well-structured organization, dividing their work into different departments like Appropriate Technology, eco-construction, organic farming, etc. My working role as a volunteer was to assist the staff in different departments. We had a high degree of flexibility to choose the types of job that we wanted to do every working day. Under this system, I was exposed to different job natures and learned diverse knowledge.
Throughout the two weeks, I was mainly responsible for the work under the sustainable living department. I did a lot to contribute to a low-impact living style. For instance, I assisted with food preparation using natural resources and with minimized energy usage. I picked some organic fruits from fruit trees and made dried fruit snacks using a solar drier. Also, I picked herbs in the garden and made natural cleaning agents. I seldom use machines during preparation; instead, for example, I would use a stone to crack open almond shells. This job took additional time, but as union is strength, we were able to use a morning to make ten jars of almonds. When we worked, we played some music and chatted happily. I didn't think my work is hard. In fact, I was really glad to work meaningfully, using my hands to contribute to the environment.
Indeed, I found it hard to adapt and work in the new environment in the first few days. As the village is located near farmland, there were flies everywhere, even near my bed. Also, I was confused of my working role as I did not have specific job duties and I was not familiar with their duties. However, it was good that a staff talked with me and comforted me. After around one week, I adapted to it and changed my attitude towards the environment. I was amazed and appreciated this natural beautiful place and the hard work of the people who built it.
Rome was not built in one day. With the perseverance and unremitting effort of staff and volunteers throughout the 25 years, Sunseed village is now a highly sustainable village, with different types of advanced renewable energies, organic farms, highly preserved dry land and a well-managed wastewater treatment system. I was very glad to be a part of it.
In addition to experiencing great changes in the environment, I also found great change in my relationship with people in the village. Initially, I found it hard to stay with the people in the village because of the cultural gap and I felt lonely in the first few days. Soon, I established friendships with them. I think it is easy to build friendship as we worked, dined, stayed with each other every day like family members. We would have leisure Wednesday every week. We hung out for football and then went to bar for a beer and some tapas. I felt so happy and warm when I was with them.
Personally, I think the major reason that pulled me and other people in that village would be the resonance of our value towards the environment. During our chat, we would share our views about the current destruction to the environment and improvement that can be made to change the situation. I learnt a lot during these conversations and I can feel great passion from my friends. Their positive attitude supported me and motivated me to work in an environment-related field as a future career.
This two-week voluntary work was an unforgettable life experience. It was not easy for me, a girl who grew up in a modern city, to live in a simple village and adapt to all the changes. It was hard for me to take vegetarian diets, access the internet and use electricity limitedly, but it was never insurmountable. I was actually amazed at my courage to overcome the situation and adapt to their living style. This experience also gave me a new belief: technology brings enormous convenience to human, but it is not a necessity. Even if we live in a simple way, we can still live happily. There is already enough destruction to our Earth. In order to sustain the life of Earth, we should not depend on advanced technology, but learn how to live in a more simple way. The life in this village is actually the future of our Earth. The only way out from the currently chaotic situation is not to exploit from nature, but live with it.