HK Tertiary Schools COP21 Challenge 2015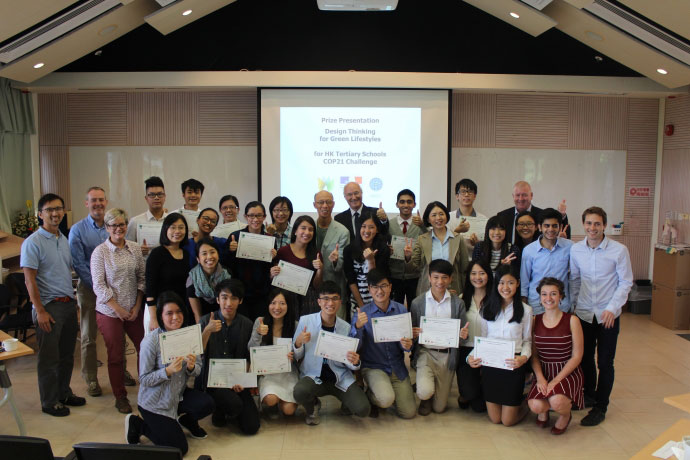 Organized by Hong Kong Sustainable Campus Consortium
Michael CHAN Long Fung, Joe POON Ka Ho, Benjamin TONG Cheuk Fung, Sunny WONG Tsz Long and Johnny YEUNG Siu Chun
A group of 5 EVMT Year 3 students, including Michael CHAN Long Fung, Joe POON Ka Ho, Benjamin TONG Cheuk Fung, Sunny WONG Tsz Long and Johnny YEUNG Siu Chun, formed a team "Sidewalk Environmentalists" and joined the HK Tertiary Schools COP21 Challenge 2015. The group submitted a 3-minute video addressing a solution related to climate change and its impact on Hong Kong and was selected to enter the Stage 2: Residential Workshop held in the HKU Kadoorie Centre on 31 October 2015. The 5 students were then divided into different teams with students from other Universities. Johnny's team won the Champion; while Benjamin and Sunny, and Michael and Joe, were in the first runner-up and second runner-up's team respectively. Congratulations!
Michael CHANIt is my pleasure to be the second runner-up in the HK Tertiary Schools COP21 Challenges, organized by the Consulate General of France in Hong Kong. In the first stage, I had the chance to work with my colleagues Benjamin, Joe, Johnny and Sunny, producing a three-minute short film focusing on how Hong Kong should handle climate change. In the second stage, I had the opportunity to work with different students from other universities in Hong Kong, sharing my opinions on the promotion of 'meatless' meals on university campuses. These experiences allowed me to apply the environmental technology skills and the negotiation skills that I have learned in the EVMT program. After the competition, I am more determined than ever to make the world a more sustainable place.
Sunny WONGThe HK Tertiary Schools COP21 Challenge 2015 consisted of two stages. In the first stage, our team had to submit a short video addressing an innovative and creative solution to climate change and its impact on Hong Kong. We were selected to enter the second round. In the second stage, we joined an intensive two-day "Design-Thinking Workshop" to develop feasible solutions to a specific climate change problem in Hong Kong. Moreover, we were given the opportunity to present our ideas to the Secretary for the Environment, Mr. KS Wong, JP.
The competition was a valuable opportunity for me to work closely with students and professionals from different backgrounds on the topic of climate change. I have further strengthen my communication, teamwork, and leadership skills, while heightening my creativity and ability to think from different. The "Design-Thinking Workshop" is utilized internally by many well-known companies to improve staff's thinking process in solving complex problems. The design-thinking process has equipped me with a unique way of looking at a problem and I am sure that this would be useful to my academic studies as well as career development in the future.
Joe POONIt is always good to work with friends with similar passions. Although we had to work overnight for the video, every moment was enjoyable and unforgettable. Instead of viewing it as a competition, I would regard the HK Tertiary Schools COP21 Challenge 2015 as a platform for exchanging ideas. I am glad that our ideas could be shared worldwide though the internet. And I was also inspired by the many brilliant ideas from other teams. I am grateful to the Division for giving us the chance and support to participate in the competition. It was a fruitful experience and a great opportunity for me to contribute what I have learned.
Benjamin TONGIt has been a unique and wonderful experience to participate in the COP-21 themed competition. Climate change as a problem has long been recognized by the public, yet we fail to come up new solutions. Therefore I really appreciate the competition's initiative to generate innovative ideas in tackling several issues related to climate change. The interdisciplinary nature of EVMT has been particularly helpful. Our understanding about different fields – environment, business and science – helped us a lot as we tried to come up with new ideas. We also had the chance to present our ideas to the Consul General of France and the Secretary for the Environment, and I would say the ample experiences of making presentations within our major studies have helped us present confidently in these important occasions.
Johnny YEUNGThe COP 21 Challenge was an experience that was full of surprises. It started out with 5 close friends trying to take on a challenge together. We brainstormed on what we could do to make Hong Kong more sustainable. We drew from what we have learned in our Energy Resources & Usage course and used our wildest imagination. We came up with an idea of producing energy from rainwater tunnels. It was a long shot, but we got into the final round. In the final round, I met with three new teammates: Stacy He from EVMT, and Arthur and Natalie from the Department of Geography and Resource Management at CUHK. We were tasked with presenting an innovative idea to the Secretary of Environment K.S. Wong and the Consul General of France in Hong Kong. We envisioned a web-based platform called V'air.com to promote local tourism for Hongkongers. Luckily, the judges liked this idea and we got first place! We carried on with our idea and joined the President Cup at HKUST. We were even interviewed by TVB. I could never have imagined that this could happen, when I first started out on this journey. I am grateful for the support from our department; I also thank them for giving us the opportunity to reach out. This has probably been the most exciting event in my university life!