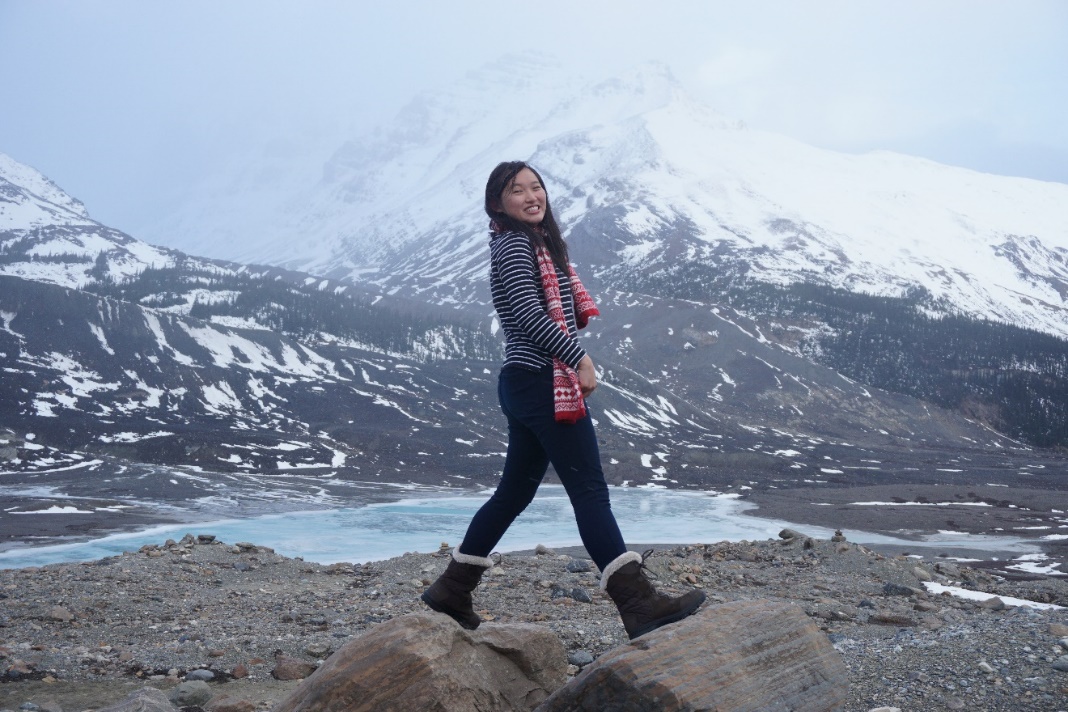 Sharon LAU
University of Toronto, Canada
Class of 2017
I am grateful for my exchange experience at the University of Toronto (UT) in Canada. The natural beauty of the country and green open spaces throughout the cities captivated me and continue to bring back good memories of my exchange trip. Especially in October, it was just chill strolling through the campus as falling maple leaves were paving your way to the over-one-hundred-year-old building for class. After class, you could hang out at the backyard of the college for lunch or read under the benches, with squirrels and birds chirping around.
That was perhaps how students found balance out of the stressful curriculum. Yes, unlike many exchange experiences I have heard about, studying in the University of Toronto (UT) was no more relaxing than in HKUST. I was warned only when I was registering for courses at UT, with the mindset of 'working hard and playing hard' as I keep at HKUST. I followed my heart to pick new course areas like Cinema Studies and Urban Planning in Canada. Luckily, the saying 'no pain, no gain' still applied. I was grateful to expose myself to a style of teaching and learning that was different from Hong Kong.
I was quite looking forward to the lectures at the University of Toronto, having heard about the high-quality education at the school. My first class, Negotiation, did impress me. The class size was around 50 and the atmosphere was pretty interactive. The instructor adopted a lively lecture style, giving day-to-day examples to introduce negotiation techniques and underlying concepts. Something as simple as buying a musical instrument on Kijiji, one of the second-hand purchasing platforms, was already an form of negotiation. I did enjoy the interactive atmosphere, which helped me absorb the concepts easily. The other lecture at the Convocation Hall surprised me when I first sat in. The hall accommodates over a thousand of students and sitting in the lecture was like watching a concert or listening to a TED talk. The speed of speech and colloquial expressions presented some challenges even though I was used to an English-medium learning environment. Yet as days went by, I gained a better understanding about Toronto education. I realized that courses in Toronto demand much more self-learning and reading on top of lectures, and our understanding about the reading content would also be assessed in exams, which is different from Hong Kong.
An exchange trip is never complete without mentioning life beyond classes. Yet, my exchange experience began with challenges upon arrival. Originally I expected to stay at an on-campus dormitory to immerse myself into a foreign campus. Nevertheless, exchange students have no priority for housing among the fierce competition for the St. George campus, which is located right at the center of downtown Toronto. I did not get a dorm, so I could only opt for off-campus housing. It was difficult to look for accommodation downtown for only one semester, and there was not much assistance from the school. With the help of friends, I finally managed to find a room 45 minutes away from campus. However, the commute made it hard for me to meet new friends at the beginning. Aside from looking for accommodation, other aspects of settling in like opening a bank account and applying for a SIM card took some time, and I had to familiarize with a new system. Having been through this process of settling in, I realized how important it was for me to become an incoming exchange buddy back in Hong Kong, so I could help foreign exchange students find their way around my hometown.
Gradually settling down and adjusting myself to the pace of Toronto, different colors start to fill up my exchange journey. When Orientation finally arrived, I was mesmerized by the carnival organized by the Student Union of UT. It was amazing with loads of free food stalls, games and even bouncy slides. Everyone was invited for a party near the harbor front in the evening with yellowish Toronto style 'school bus' carrying us there. The Student Union of UT was really warm in offering free hot dogs in the chilly cold weather during the semester. Besides the Student Union, I often joined activities organized by the Centre of International Experience and the Hart House. Ice-skating, ice-hockey watching and pumpkin carving for Halloween were some of the highlights. These activities would have been rare in Hong Kong, but they showcase the specialties in Toronto or Canada. I also could not believe I joined the choir during my exchange trip. In just four months, enthusiastic people from Australia, French, Spain, UK, Brazil, China, US and Canada of all backgrounds and age groups (from UGs, PGs and even staff) were performing pieces of music together, even across languages in Spanish and English. I was so amazed to see how diverse Toronto truly is and how such diversity brings people together in music.
The best part of exchange was living in Toronto as a Torontonian and exploring as much as possible in Canada. After class, just pick a bike and cycle towards the harbor front from UT and enjoy an afternoon at High Park, then chase after the sunset along the harbor front on the way back; or take a ferry and enjoy a trip to Toronto Island. The freshwater beaches welcome you from Lake Ontario. Over weekends or breaks, just backpack to Montreal and Quebec City with overnight buses to experience the Fresh-speaking region, must-try foods and breath-taking views; or ride to Ottawa to understand Canada more at the capital and visit Queen's University at Kingston. A road trip to Algonquin Provincial Park is also fascinating for its natural trails, kayaking and camping, especially during the peak season for maple leaves. Hiking up to the Rockies between the provinces of Alberta and British Colombia and Vancouver at the West coast would become life-long memories. The Niagara Falls, being one of the Seven Wonders of the World, is of course not to be missed when you are exchanging at Toronto. The natural beauty in Canada is what makes Canada stands out, but so are the people, Canadians. Canadians are open, kind and generous, and would always lend a helping hand. Thanksgiving and Christmas are special occasions to experience the diversity and energy of Canadians, with Thanksgiving dinner, Toronto Christmas opening and Christmas market. The atmosphere is just incredible.
If I were to summarize my exchange experience, it could not be described solely 'unforgettable' but it is really 'once-in-a-lifetime'.