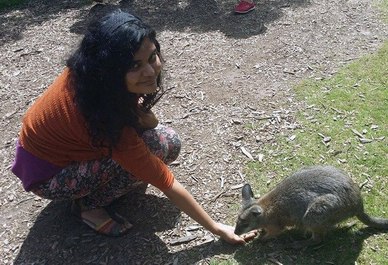 Isha CHATURVEDI
UNSW Australia
Fall 2014
This exchange has widened corridors of opportunities, experiences and thoughts and in short created the new beginning of another life. In the start I wasn't really excited and perhaps my first few weeks in Sydney were spent in vain, homesickness and sleepless nights. I was completely lost and petrified to be traveling by myself, alone on those cold, aloof alleys of Sydney, with extremely diverse people of every shape and size walking on roads, speaking in a language that just shattered all those firm pillars of confidence and belief that English is my forte. Unlike Hong Kong, Sydney is really not a vibrant city and literally everything closes before 9 pm. Traffic seems negligible, even though for Australians, Sydney is one of the most populated places of Australia. The public transportation system isn't sufficient enough to aid people who completely rely on it. In short one needs to have a car to travel. Unlike Hong Kong, there are no massive cloud-height skyscrapers. People seem to lack motivation and as soon as the clock strikes five in the evening, people would switch off their working clock and shift to a relaxation one.
This cultural shock wasn't only limited to roads but was also experienced in the university. Professors dressed really informally and would speak in such jet speed English that for first few weeks, I had no idea what was being taught. Since I took courses from different departments and schools, I got to experience the different characteristics of students in different schools. For example the behaviour of engineering students was associated with that of a typical nerd. In fact I got to listen to and read about a lot of nerd humour in the time I spent with CSE students. There were huge differences between engineering and business students; while the former wouldn't be bothered to dress up, the latter would be conscious of their fashion and appearance. One could smell the aroma of Victoria Secret as soon as one entered the business building. I was often caught up in the dilemma of what to wear, since if I dress up properly in CS classes, everyone would consider me an outcast and same behaviour I experienced in Business classes if I don't dress up. My first month was spent understanding different people, their behaviour, and by and large Australia. This would all seem gloomy and discouraging but it wasn't so. Except for the starting few weeks and a few bad incidents, things were just great, and with time it got upgraded to what I would call as sheer awesomeness.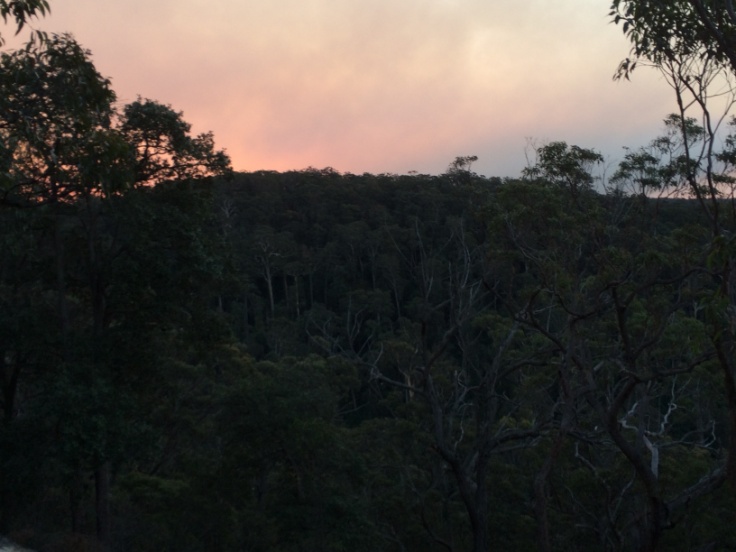 New South Wales' Forests
Three Sisters, Blue Mountains, NSW
First, I have never seen such friendly people ever in my life. People would just greet each other on streets, and would randomly strike up a conversation on the bus or train. I was so amazed when a guy in university asked me if I was lost and new on campus and wanted some help. If I would seek for directions on the road from someone, people would stop and spend atleast five minutes to help me out or even start checking on their GPS. People had a balanced work-life which is absent in Hong Kong. Professors were informal to students to the extent that they would crack up jokes and engage in fun activities with the students. Here in Hong Kong everyone is on a rat race all the time, there people would go chilling under the sun on a beach or in a park. Beaches and parks were more crowded than malls and there was not a big fascination for high classy brands among middle class people. People would say thank you to the driver while getting off the bus. In university, there was no such a thing called a firm friend circle and one can engage with anyone easily. Infact I have never felt so loved by everyone as I have felt there. Before I went to Australia, I knew a few students at UNSW, whom I met during my London Science forum or Indonesia social trip. But I wasn't expecting so much generosity because I hardly knew them. The first token of surprise and happiness, I received when one of my UNSW friends offered to pick me up from the airport. Another was when my friend took me to his forest house to show me the New South Wales forests, and to add to the topping, his mother picked me up from my apartment where I was staying and also dropped me back (it takes at least two hours by car to drive to the forest) and invited me for lunch with the whole family and friends. One of them, I actually never talked with before, during my London science trip, was all ready to shed away his work time to show me Sydney and its outskirts, and the fun fact was these people would never refuse me to take me out to show me things. I could go on telling Sydney tales as they have no ending.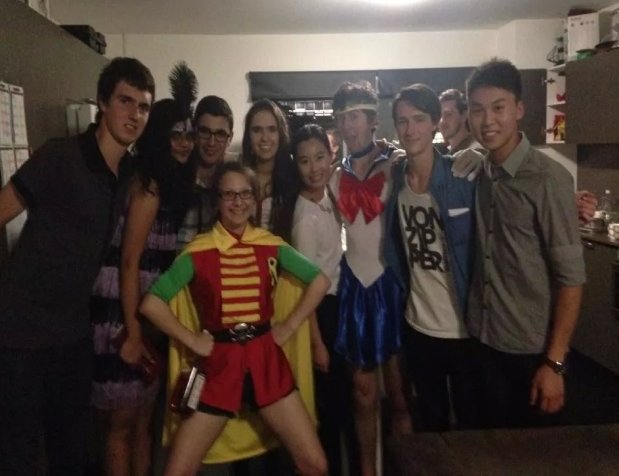 Halloween Party
Last Lunch with the housemates
Encounter with Australian wildlife in Victoria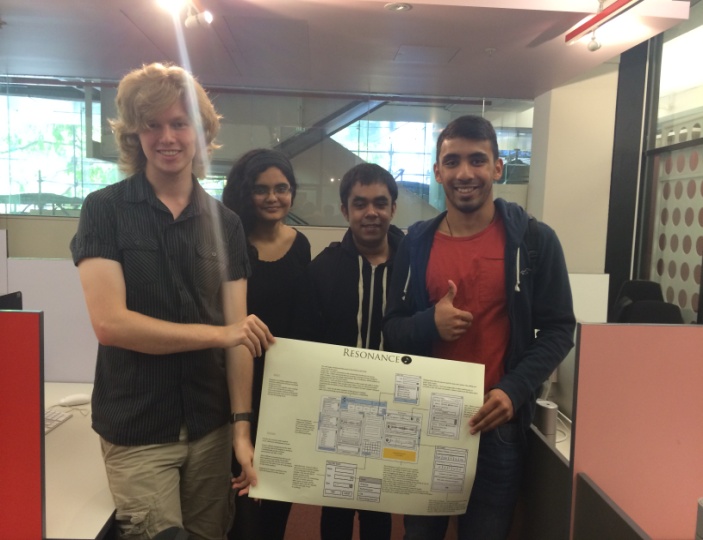 Human Computer Interaction Course GroupPresentation: Best Interface Prototype in Class
From all this I learned the importance of relationships with people and how important it is to find a right balance among your studies, work and life. One of the social stigmas which lot of Indians have is that Australians are racist towards them due to some incidents in the past. I never faced this. Racism is everywhere in world and it depends less on the country one is from and more on how educated one is. Another perception is that Australians are rude, which is completely opposite of what I experienced. In fact it is just their tall and strong built personality, witty humour, care-free nature, fast language skills, and slangs which portray them in a rude image. But once one is able break through that and start comprehending their vocabulary in their context, life would be really easy. Well at least that is all exchange in an unknown country and different culture is about in my view. And now whenever I would see exchange students getting lost on campus, I would surely come forward to lend my help and wouldn't hesitate to show them Hong Kong and its rich culture.