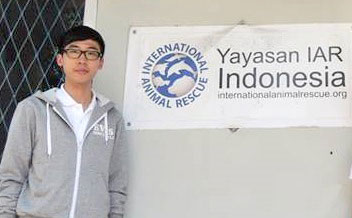 Sunny LAM
Implementation of a Systematic Reintroduction Programme to Rehabilitate Orangutans in West Kalimantan
Winter 2014
This January, I was given the opportunity to join the OPCF's USSP and take part in an orangutan conservation project in West Kalimantan, Indonesia. The experience was memorable and unique, and it broadened my vision toward the work of animal conservation.
There were many first-time experiences for me on this trip, particularly during the days and nights spent in the tropical rain forest. One of the most memorable challenges during the trip was tracking Helen, an orangutan that was recently released in the tropical rain forest. We had to stay in the tropical rain forest for four days, living in a wooden house next to a river. It was the first time that I had to try taking a bath in the river, drinking water from the river and sleeping in a tropical rain forest. On tracking days, we even had to wake up at 3am in the early morning and searched for Helen in complete darkness. Helen would stay on the same tree for three hours or longer, and we would wait patiently under the glaring sunshine. It required certain techniques to track the released orangutan without losing it; the well-experienced orangutan keepers used all of their senses, including hearing tree's movement, to track the orangutan. They also have to record the behavior of the orangutan every two minutes from the moment they wake up until they sleep again day after day! I tried my best to observe Helen and I realized even though it was rather difficult and tiring, it was also a lot of fun to conduct this routine data collection work. It was tough, but I was so glad that I finally succeeded.
On this trip I came to the realization that orangutan conservation in Indonesia is critical right now. The predicament currently faced by orangutan involves both historical and cultural factors. The continuous deforestation and monoculture of palm oil tree deteriorate natural habitat for orangutan in Indonesia. There is a close connection between human consumption of palm oil and the disappearing of orangutan. The problem of orangutan trafficking is also severe in Indonesia, further posting difficulties to orangutan conservation in the country.
More importantly, the real-life practice here made me understand that conservation requires not only passion and knowledge, BUT also ACTION!
I met a Spanish volunteer and I was quite impressed by her sharing. When I met her, she had already stayed inside the tropical rain forest for one entire month. She travels to the center and participates in rehabilitation for six months every year; for the rest of the year she tries her best to earn her living while staying in Indonesia. When I asked her why, as someone who has a master degree in psychology, she was willing to dedicate her life to orangutan rehabilitation in Indonesia, she simply told me that she likes this animal! In her I saw a passionate person who takes action to support what she preaches. She definitely sets a good example for me as I pursue a future career in the environmental field.
This programme has meant more than just an oversea conservation trip to me.
"It is a journey to understand more about myself."
"It is a stimulant to refresh my enthusiasm for protecting the environment and endangered animals."
"It is a cornerstone for my upcoming career in the environmental field."
Once again I would like to express my sincere gratitude to OPCF, YIARI, HKUST School of Science and Division of Environment for offering me such an indelible chance to participate in this conservation experience in Indonesia.