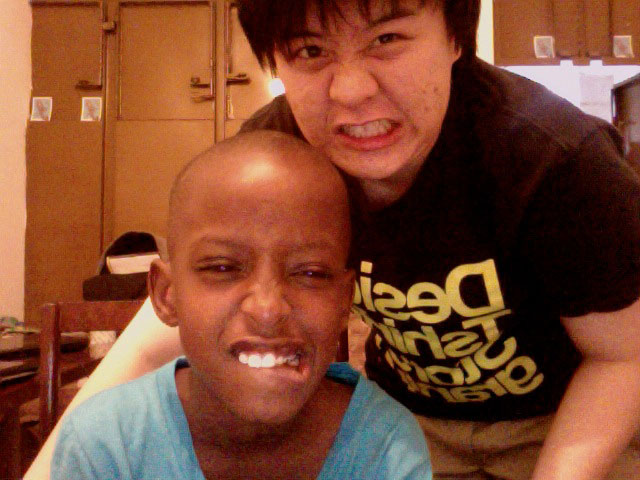 TSANG Ching
Uganda Tour
Winter 2012
"Life is about striving for excellence, living in diversity and seeking for personal achievements, and hence, bring positive impacts to the society." This is the personal motto for which guides the way I live my life.
On 25th December, a cold, lonely Christmas night in Hong Kong, I set off to find my way to diversity and scale new heights. Taking a 24-hour journey, I flew all the way from Hong Kong to the other side of the world – Uganda, Africa.
Heading to Africa has always been my dream as I have always been fond of nature and adventure. To me, Africa was a mysterious continent, a place that few people dare to go, a place where CNN claimed to be dangerous and full of poverty. Yet, it was here that I could feel the feelings of undiluted love and the purest joy.
Making the decision to go to Uganda was a hard choice for me at the very beginning, as I knew very little about this small country and faced much disagreement from my parents and friends who believed Africa to be dangerous. Yet, my curiosity and heart to strive for diversity and new heights helped me conquer all of these barriers and set my heart on this decision.
My internship was for an environmental project in a small town in Uganda, Masaka, where my responsibility was to start up a project trying to cope with the needs and problems in town. This was mostly achieved through setting up goals and outlines, as well as writing proposals. During this internship, I experienced what I could never have experienced in Hong Kong.
I met a lot of people from different nations – Singapore, France, Australia, Kenya, Tanzania, Botswana, Nigeria, Pakistan, and even Lebanon. In a place with such diversity, I truly understood what it means by "global learning diversity". There were, in fact, many forms of culture shock that one can encounter, such as the difference in personalities, and I learnt how to overcome one's stereotype. At first, whenever I received a wet cloth during dining, I would use it to clean my hands only, but the Kenyan next to me would use the cloth to wipe all over his body. This was truly a culture shock for me, as certainly no one would ever do so in Hong Kong. However, as time passed, I realized that this action was normal due to the physical conditions there, and in the end, whenever I received the cloth, I too would wipe it all over my body.
I got to interact with people from different backgrounds, and some of them even changed the way I perceive life. "Grandma" was one of them. She was the founder of the Nazareth Orphanage, where its only source of income was from the crafts she made. By using small sticks of wood and dried-grass, bit by bit, Grandma sustained the Orphanage for 30 years and raised 50 children. In spite of the lack of food and clothing, the kids were still able to live joyfully everyday and Grandma continues to do all her best to save these children.
Life is dynamic. We should treasure what we've got and try our best to achieve the most. After this six-weeks long journey, I've become more desperate than before. More desperate in my quest to reach my goals. And it has never been so clear as it is now – I have to bring a positive impact to our society.